Commission Internationale de Canyon (CIC) update training 08. and 09. October 2019.
Start of the course
08. October 2019, 9:00 o'clock
End of the course
09. October 2019, 17:00 o'clock
Meeting point
Tirol, Austria
Date limit for reservation
31.08.2019
Instructors
Thomas Waibel
Michael Jordan
(depending on number of participants)
Course fee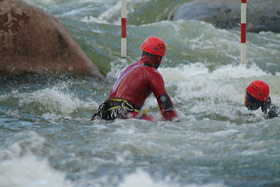 90 Euro per paticipant
Important: Accommodation and food are not included in the course fee! We would like to have dinner together in the evening.
Necessary equipment
Full neoprene suite,
complete canyoning equipment,
cutting device,
throw bag,
30 meters of rope,
Drilling machine, bolting tool if available
Course topics in theory and practice
News in the CIC
Future of the CIC in German language area
Accidents
New rope technics, changements in the courses
Membership for clubs and organisations
Bolting, installation of anchor point, equiping Canyons

Conclusion of the course
There will be no exam, but of course we ask for full engagement. In case of truly poor performance, we may limit your allowance to work in canyons according to our training regulations.